Pixel 4 camera gets high zoom score
DxOMark has released camera scores for the front and rear cameras for Google's new Pixel 4.
DxOMark provided the following:
With an overall DXOMARK Camera score of 112, the Pixel 4 ranks comfortably among the top ten devices in our database of smartphone image quality. Achieving a Photo sub-score of 117 points, Google's latest device offers a nice step forward for stills over its predecessor, with noticeable improvements in most areas and a notable jump in the quality of zoom shots.
The Pixel 4 remains slightly behind such recent top performers as the Huawei Mate 30 Pro (131 points), largely due to the lack of both an ultra-wide camera and a time-of-flight (ToF) sensor. These omissions put the Google's device at an immediate disadvantage compared to the triple- and quad-cam devices in our wide-angle and bokeh testing, and that affects its overall ranking.
Nevertheless, outstanding performance for video, combined with solid results for stills, ensures that the Pixel 4 remains a very attractive device for smartphone imaging enthusiasts. For photos, exposures are generally accurate, with good shadow detail in contrast scenes; and color is among the best we've seen. Accurate skin tone rendering is a particular strength for color, with generally well-controlled highlights on fair skin tones, nice levels of saturation, and pleasant white balance.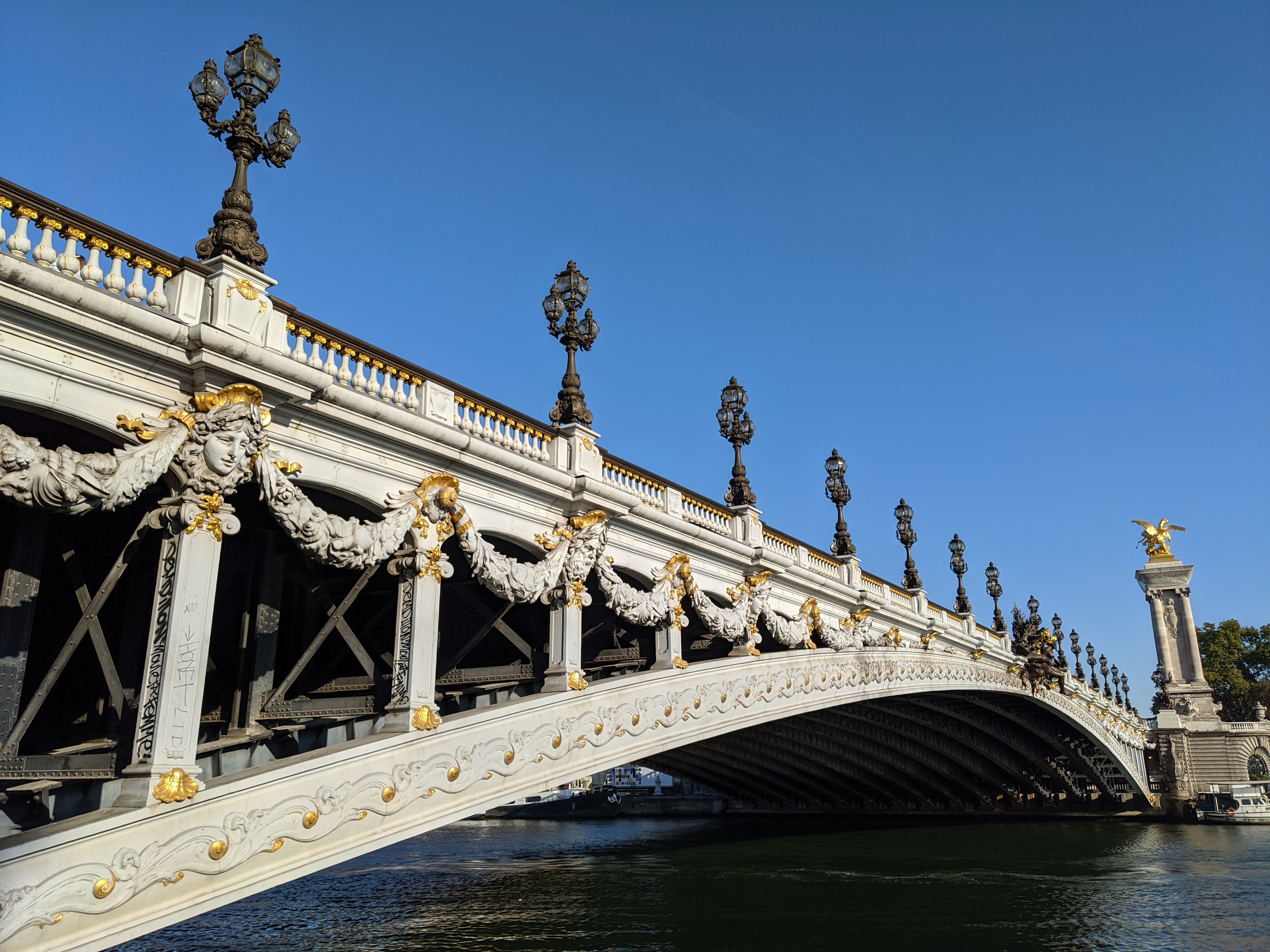 The Google Pixel 4 delivers accurate exposures in bright light, with good shadow detail, fairly accurate white balance, and nice color rendering.
Fast and accurate autofocus ensures in-focus shots in all lighting conditions, and the level of detail is good in outdoor and indoor images, with intricate areas well-defined. It's not quite as good in low light, however, where a loss of fine detail and a heavier buildup of noise are noticeable compared to results from the best low-light performers.
Zoom is the Pixel 4's key strength, maintaining very good exposure, color, and detail in all our tests. It's particularly impressive at close range, ensuring high levels of detail with well-controlled artifacts even in low-light scenarios, along with the same nice skin tone rendering on portraits. At medium and long range in bright light, it doesn't preserve fine detail quite as well as the Huawei P30 Pro, but again, the Pixel 4 was often better at these focal ranges for indoor and low-light shots.
The Pixel 4's bokeh simulation is pretty nice, too, thanks to pleasant exposure, color, and good overall image quality. It's slightly let down by weaker depth estimation, however, with failures often visible at close inspection compared to top performers with a dedicated depth-sensing camera.
Google's Night Sight mode is welcome for low-light photography, as it generally captures pleasant exposures with nice color and good detail. In our new series of night photography tests, auto-flash also triggers accurately based on the scene, and the flash automatically deactivates for low-light cityscapes, which show good exposure and strong color saturation. White balance tends to turn slightly pink, and details are low and have more noise than we've observed from the best devices in these shots, but the results are solid overall.
The Pixel 4 is also a top performer for video, ranking at the top of our database alongside the Samsung Galaxy Note 10+ 5G with a Video score of 101 points. All other recent top-ranked video devices have captured 4K (2160p) footage by default, however, making the Pixel 4 the first 1080p HD device to hit the top of our video rankings since the introduction of 4K recording at default settings. Excellent results for video noise, well-managed in all conditions, as well as video color with pleasant white balance and vivid rendering, are its key strengths. Video autofocus is also fast and accurate, and its gyro-EISstabilization system is fairly effective, aside from some residual motion in walking videos. Automatic frame switching between 30/60fps in 1080p mode is also pretty handy for smoother video capture to keep pace with lighting or movement changes within a scene without having to manually adjust settings.
Read more here.
Second chance to get discounted Xbox One
Last year's Black Friday deals for the Xbox One were epic, and this year they return to being heavily discounted.
With 9 days to go until the shopping extravaganza that is Black Friday (29 November 2019), Prima Interactive has revealed its Black Friday deals for Xbox One. 
The deals remain roughly the same as last year's Black Friday prices, suggesting that these are the absolute minimum at which retailers can sell the consoles.
Xbox fans won't have to wait until 29 November but will be able to purchase the following deals from 25 November to 2 December 2019 from all leading gaming retailers:
Xbox Box S (1TB) Console for R 3 599.00
Xbox Box One S + Wireless Controller for R 4 699.00
Xbox One X for R 6 999.00
Nokia 7.2 gets triple camera system
The latest handset from Nokia packs a 48MP triple camera system with Zeiss optics, as well as a PureDisplay screen.
HMD Global, maker of Nokia phones, has announced the Nokia 7.2, the first Nokia smartphone to combine a triple camera and PureDisplay. It features a 48MP triple camera with Quad Pixel technology and Zeiss Optics. It also introduces a range of Zeiss bokeh styles, exclusive to Nokia smartphones, that recreate the way legendary Zeiss lenses produce high visual impact and signature blur.
Alongside more AI-powered features such as night mode, users can get more creative with their photography. Building on the strengths of its predecessor, Nokia 7.2 combines PureDisplay technology and always-on HDR.

Shaun Durandt, GM of HMD Global Southern Africa, says: "With the Nokia 7.2 we aim to push the limits on what consumers can get from one of our popular Nokia 7 series smartphones. The Nokia 7.2 offers consumers advanced tools to express their creativity. Everything from the Zeiss Optics, exclusive Zeiss bokeh modes and powerful AI imaging, to its breath-taking PureDisplay technology, makes the Nokia 7.2 a device that truly stands out. In combination with the beautifully patterned satin glass back, Nokia 7.2 packs design innovation and stunning imaging performance, with a two-day battery life, into a smartphone for aspiring creators across the world at a truly incredible price."
Nokia 7.2 is the first in the Nokia smartphone portfolio to feature a triple camera set up with Zeiss Optics. This is a combination of a highly sensitive 48MP sensor with a Quad Pixel technology main camera with ZEISS Optics, an ultrawide camera and a depth camera. The Quad Pixel technology combines four pixels into one for enhanced images in most conditions. 

The new bokeh styles include a portrait mode, which uses powerful image processing to recreate the way Zeiss lenses produce high visual impact. These blur effects are called Zeiss Modern, Zeiss Swirl and Zeiss Smooth modes. Add beautification to improve skin tones for instantly shareable portraits. AI-powered night mode allows users to capture the moment in low light, combining image fusion and explosion stacking to deliver good low light performance.

It comes with an ultrawide camera, which has a 118-degree field of view that means users can fit a lot more in one shot. The selfie camera also features Zeiss optics with a 20MP.  
With a dedicated Pixelworks visual processor, Nokia 7.2 upscales video content to HDR quality in real-time, with up to a billion shades of colour, higher contrast and expanded dynamic range. This means users can enjoy more contrast and deeper colours when watching TV shows, compared to other displays.

Crafted from polymer composite that is twice as strong as polycarbonate and half the weight of aluminium, the device is light, yet super strong and rigid. 

Nokia 7.2's light-diffusing satin glass back honours the Finnish glass making heritage and results in a premium finish. Using a multilayer coating system with vacuum metallisation, the result delivers bright colours, a smooth finish and offers durability. 
Powered by the Qualcomm Snapdragon 660 Mobile Platform, the device offers balanced performance, making sure the phone is ready when users need it the most. The Nokia 7.2 also comes with the signature two-day battery life promise.

As part of the Android One partnership, Nokia 7.2 is Android Q ready and will receive guaranteed monthly security updates for three years and OS updates for two years, so it is claimed to get better performance over time.  
Pricing and availability
The Nokia 7.2 comes in Charcoal and is available at Vodacom stores on 20 November from R6,299.