Pixel 4 camera gets high zoom score
DxOMark has released camera scores for the front and rear cameras for Google's new Pixel 4.
DxOMark provided the following:
With an overall DXOMARK Camera score of 112, the Pixel 4 ranks comfortably among the top ten devices in our database of smartphone image quality. Achieving a Photo sub-score of 117 points, Google's latest device offers a nice step forward for stills over its predecessor, with noticeable improvements in most areas and a notable jump in the quality of zoom shots.
The Pixel 4 remains slightly behind such recent top performers as the Huawei Mate 30 Pro (131 points), largely due to the lack of both an ultra-wide camera and a time-of-flight (ToF) sensor. These omissions put the Google's device at an immediate disadvantage compared to the triple- and quad-cam devices in our wide-angle and bokeh testing, and that affects its overall ranking.
Nevertheless, outstanding performance for video, combined with solid results for stills, ensures that the Pixel 4 remains a very attractive device for smartphone imaging enthusiasts. For photos, exposures are generally accurate, with good shadow detail in contrast scenes; and color is among the best we've seen. Accurate skin tone rendering is a particular strength for color, with generally well-controlled highlights on fair skin tones, nice levels of saturation, and pleasant white balance.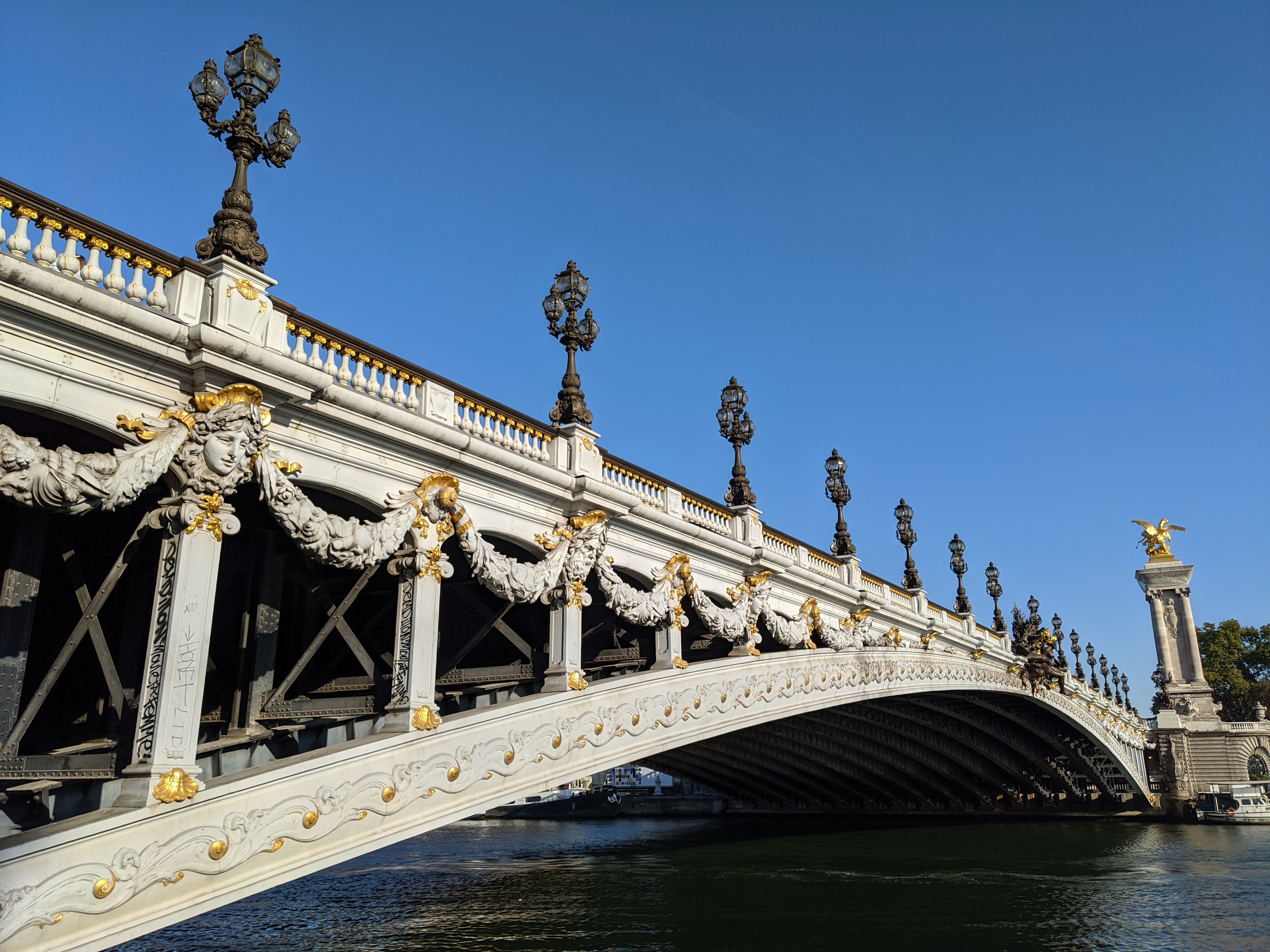 The Google Pixel 4 delivers accurate exposures in bright light, with good shadow detail, fairly accurate white balance, and nice color rendering.
Fast and accurate autofocus ensures in-focus shots in all lighting conditions, and the level of detail is good in outdoor and indoor images, with intricate areas well-defined. It's not quite as good in low light, however, where a loss of fine detail and a heavier buildup of noise are noticeable compared to results from the best low-light performers.
Zoom is the Pixel 4's key strength, maintaining very good exposure, color, and detail in all our tests. It's particularly impressive at close range, ensuring high levels of detail with well-controlled artifacts even in low-light scenarios, along with the same nice skin tone rendering on portraits. At medium and long range in bright light, it doesn't preserve fine detail quite as well as the Huawei P30 Pro, but again, the Pixel 4 was often better at these focal ranges for indoor and low-light shots.
The Pixel 4's bokeh simulation is pretty nice, too, thanks to pleasant exposure, color, and good overall image quality. It's slightly let down by weaker depth estimation, however, with failures often visible at close inspection compared to top performers with a dedicated depth-sensing camera.
Google's Night Sight mode is welcome for low-light photography, as it generally captures pleasant exposures with nice color and good detail. In our new series of night photography tests, auto-flash also triggers accurately based on the scene, and the flash automatically deactivates for low-light cityscapes, which show good exposure and strong color saturation. White balance tends to turn slightly pink, and details are low and have more noise than we've observed from the best devices in these shots, but the results are solid overall.
The Pixel 4 is also a top performer for video, ranking at the top of our database alongside the Samsung Galaxy Note 10+ 5G with a Video score of 101 points. All other recent top-ranked video devices have captured 4K (2160p) footage by default, however, making the Pixel 4 the first 1080p HD device to hit the top of our video rankings since the introduction of 4K recording at default settings. Excellent results for video noise, well-managed in all conditions, as well as video color with pleasant white balance and vivid rendering, are its key strengths. Video autofocus is also fast and accurate, and its gyro-EISstabilization system is fairly effective, aside from some residual motion in walking videos. Automatic frame switching between 30/60fps in 1080p mode is also pretty handy for smoother video capture to keep pace with lighting or movement changes within a scene without having to manually adjust settings.
Read more here.
Motorola unveils foldable Razr
Motorola has relaunched a new Razr flip phone, dubbed the Moto Razr 2019, that flips out into a full 6.2 inch smartphone – without a display crease on its fold.
The iconic Moto Razr flip phone has returned, but instead of a tiny LCD with a T9 keyboard, users get a 6.2 inch OLED foldable Android phone. Having a foldable OLED display puts the new Moto Razr in the same league as the Huawei Mate X and Samsung Galaxy Fold. This also, naturally, means it's extremely expensive, starting at $1500 in the US, and is locked to Verizon for now.
Two major aspects make this device stand out: the hinge design, and the unfolding design. The new hinge uses an interesting unfolding technique, that features a large air gap to allow the hinge to move out the way of the display. This is vital for reducing the crease to the point where it's no longer noticeable.
The way it unfolds seems a bit more practical than the other phone-to-tablet designs we've seen so far. Instead, we now see a smartphone-in-hand, which means when closed, the device is really small, but normal-sized (by 2019 standards) when unfolded. It also allows the Razr to dethone the Galaxy Note 10+ for the crown of the tallest phone on the market. It's great to see a different kind of foldable.
The design remains strikingly similar to its older sibling, with some improvements like a fingerprint sensor on the chin, and a much larger camera lens.
The biggest drawback is the spec-to-price ratio, for a Snapdragon 710, which is not a flagship processor. At half the price, one could get a Snapdragon flagship or another equivalent flagship processor device from Samsung, Huawei, LG, or even an iPhone 11. 
Fortunately, it comes packed with 6GB of RAM, so performance will likely be smooth for those who aren't playing graphics-intensive games. Another huge plus for nostalgic users is retro mode, which skins the phone with a small screen and T9 keyboard, like its 2004 sibling.
Motorola says the device will be available in Europe, Latin America, Asia, and Australia. The new Razr will launch in the US first, and only on Verizon, on 9 January 2020, with preorders starting 26 December.
Dynabook adds 13.5-hour laptop battery to Tecra range
Dynabook, formerly Toshiba, has announced the A40-E, a lightweight laptop with a 13.5-hour battery life.
Dynabook Europe GmbH has announced the latest addition to its Tecra range of laptops with the new A40-E. Being a highly portable, highly connected, and secure business laptop, the device has been designed to meet the Microsoft Modern Computer standard. The product completes Dynabook's A-Series family, alongside the recently announced Portégé A30-E.
Weighing in at 1.47kg and boasting up to 13.5 hours of battery life¹ – with a Quick Charge feature giving 4 hours' battery life from just 30 minutes' charging – the Tecra A40-E offers users optimal portability. It features a 14-inch Full HD anti-glare display that reduces workers' eye strain and means performance is not impacted by variable lighting. The A40-E has also been designed with durability at its core. It has a highly robust chassis and has been tested under rigorous military-grade standards.
"The Tecra A40-E has been developed with all businesses in mind, no matter what their size or industry," says Damian Jaume, President of Dynabook Europe GmbH. "The launch of this device demonstrates our commitment to innovate within the European business PC market and broaden our range of user-centric devices, following on from our company rebrand."
The A40-E has been developed with a range of robust, in-built security measures. Dynabook's in-hous BIOS provides enterprise-grade security, alongside a Trusted Platform Module (TPM), which stores data safely. Two-factor authentication also protects against unsolicited logins should the device be lost or stolen. A SecurePad with fingerprint reader is included as standard, with optional Smart Card reader and face recognition also available.
It features a USB Type-C port and, depending on configuration, one or two further USB 3.1 ports, along with Gigabit LAN, HDMI port, and micro-SD slot. An optional USB-C dock provides further connectivity options. The device's Intel Dual Band Wireless-AC 8265 Wi-Fi Antenna configuration enables fast Internet connection. Optional LTE also ensures Internet is available to employees outside of Wi-Fi zones. 
The device is also equipped with an 8th generation Intel Core processor and a range of storage capabilities including three SSD options – 256GB, 512GB, 1TB PCIe – to enable high performance and efficient workflows whatever budgetary and capacity requirements a business may have.
The dynabook Tecra A40-E will be available in January 2020.
¹measured with Mobile Mark™ 2014. Mobile Mark is a trademark of Business Applications Performance Corporation