Best of MWC: Coolest tech coming your way
As the fanfare of Mobile World Congress subsides, ARTHUR GOLDSTUCK selects the coolest gadgets heading our way
Best smartphone display: Sony Xperia 1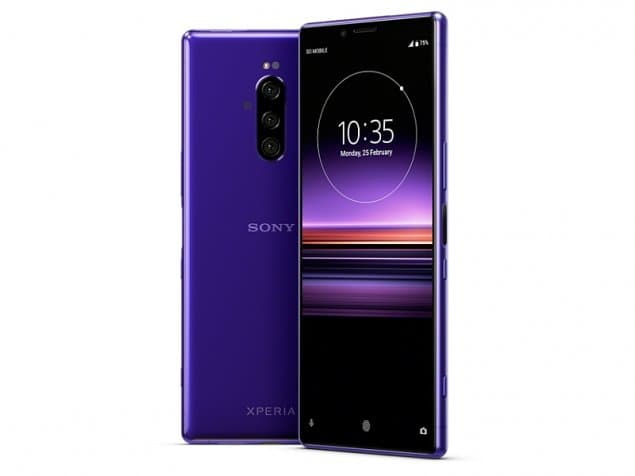 We all wondered where Sony would go next in its efforts to use its superior camera technology to keep up with the smartphone leaders. The answer is the Xperia 1, which brings Sony's handset business closer to its movie business. The 6.5" screen features a 21:9 CinemaWide display, the same aspect ratio as in the cinema. "A collaboration with CineAlta professional imaging engineers means it can reproduce colours as directors intended," says Sony. The experience is delivered on a 4K HDR OLED display, backed by a pro-quality triple lens camera system: 16mm for wide landscapes, a 26mm lens and a 52mm with 2x optical zoom. Audio comes to the party as well. Dolby Atmos provides multi-dimensional sound that flows above and around the user. Taking your phone to the movies? Rather take the movies to your phone!

Most visionary handset: Electroneum M1 blockchain phone
The Electroneum M1 is an affordable Android smartphone designed for people in developing regions. It has one fairly important difference: it pays users back for using it.
The M1 features built-in Cloud Mining, for mining cryptocurrency, and earns its owner up to US$3 worth of the mobile cryptocurrency ETN every month. Users can then spend the ETN on mobile data top-ups, among other. The phone costs just $80, and features 4G connectivity, Dual SIM slots, 8GB storage, and both front and rear-facing cameras.
Click here to read about the best educational technology, and best health technology.
Click here to read Arthur Goldstuck's first edition of the best of MWC.
Google announces its 'Netflix for gaming'
The new gaming platform, Stadia, promises high-definition gaming on TVs, computers, and mobile devices, writes BRYAN TURNER.
Google has announced that it has moved into the gaming space, and it focuses on two big aspects of gaming: streaming of games for gamers, which will allow gamers to game anywhere with a fast, low-latency Internet connection; and audiences that watch gamers in-game.
This is a big move in making gaming accessible to more gamers, as it reduces hardware costs, by utilising the benefits of low-latency cloud computing. This will be achieved by using a globally connected network of Google data centres. Gamers who stream games are most likely already using a high-speed, low-latency Internet connection, so access to the Stadia platform will be an added expense.

Through the Stadia platform, gamers will be able to access a large library of games at all times, with no installation time, on virtually any screen. Scaling of hardware like CPU, GPU, memory, and storage is also possible, as one would for cloud server resources.
Google will be leveraging its other platforms, like YouTube, with Stadia streaming. It claims that 200-million people are watching game-related content daily on YouTube. This allows, for example, Stadia players to jump in with other Stadia players – no downloads, no updates, no patches, and no installs.
For console players, Google has designed a custom controller.
The controller was designed to establish a direct connection from the Stadia controller to Google's data centre through Wi-Fi for the best possible gaming performance. The controller also includes a button for instant capture, saving, and sharing gameplay in 4K resolution. It sports a Google Assistant button and built-in microphone, as many Google products do, for voice control. 

The device is expected to be released later this year, pending FCC approval.
Nintendo announces Stranger Things 3 game
The Netflix Original show is set to launch a retro-style game on the Nintendo Switch.
In collaboration with Netflix, developer BonusXP has created Stranger Things 3: The Game. It is the official companion game to Season 3 of the hit original series. The game and latest season are expected to launch on US Independence Day, the 4th of July, a date that will, of course, stick in American gamers' memories.
This adventure game blends a distinctively retro 16-bit art style, reminiscent of games from the time when the series was set. It is claimed to have modern gameplay mechanics to deliver nostalgic fun with a fresh new twist. Players will be able to experience their favourite show through a mix of exploration, puzzles, and combat.
Just ad in the show, teamwork is at the heart of Stranger Things 3: The Game. Players can team up in a two-player local co-operative, or in single player mode alongside an AI partner. Players can choose to play as one of twelve characters from the show, each with different abilities and attributes. Together, they'll play through familiar events from the series, while also uncovering never-before-seen Stranger Things secrets, ensuring a fun experience for those new to the world of Stranger Things as well as for those familiar with the series.
Key Features:

Experience the show in a new way, exploring the eerie world of Hawkins to uncover new mysteries beyond what's seen in Season 3.
Jump right into the action of this pick-up-and-play adventure: gameplay mechanics that allow players from beginner to advanced skill levels to get in on the fun.
Take your game to a higher level by trying out different character combinations and collecting all the secrets the expansive world of Hawkins has to offer.
Team up with a friend, leveraging drop-in/drop-out local co-op to take on the mysterious monsters of Hawkins together. While playing solo, use a collection of "buddy commands" to control both characters and still experience all the fun.
Choose from 12 playable characters, each with their own unique talents and stats.