CrowdGadget: Top 5 start-up gadgets
From heads-up display car assistants to smart mugs, BRYAN TURNER wraps the coolest gadgets to back on several start-up platforms.
2. Matrix PowerWatch 2 – Powered by humans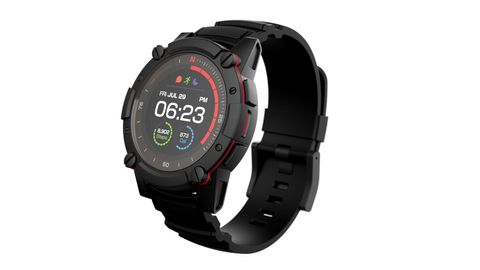 Charging a smartwatch is so 2018. Wearable startup Matrix Industries has introduced its revised PowerWatch 2 smartwatch, which doesn't need to be charged at all.

The smartwatch is designed with improved thermoelectric generators and new solar-cell technology, constantly generating more than enough energy to operate the built-in intelligent heart rate monitor. It also features a full-colour LCD display, which is powered by thermoelectric and solar energy.

Surprisingly, it features an always-on onboard GPS, making this a great exercise tool for those who need to map out runs, hikes, rides, or swimming. It can also be submerged up to 200 metres.

The PowerWatch 2 companion app is packed with useful health and fitness metrics like pace, distance, steps, sleep, and cadence. It also claims to have one of the most accurate calorie counter on the market. The companion app synchronises with Apple Health and Google Fit, good news for those who make use of applications that use these services for medical benefits.

Apart from fitness features, it performs all the standard tasks of other smartwatches, like push notifications and vibrating alerts.
The project is available for backing on IndieGoGo here.

Click here to read about a robotic arm that can do almost anything, a smart mug that tells you if your water is safe to drink, and a South African solar-powered computer.

Veeam passes $1bn, prepares for cloud's 'Act II'
Leader in cloud-data management reveals how it will harness the next growth phase of the data revolution, writes ARTHUR GOLDSTUCK
Veeam Software, the quiet leader in backup solutions for cloud data management,has announced that it has passed $1-billion in revenues, and is preparing for the next phase of sustained growth in the sector.
Now, it is unveiling what it calls Act II, following five years of rapid growth through modernisation of the data centre. At the VeeamON 2019conferencein Miami this week, company co-founder Ratmir Timashev declared that the opportunities in this new era, focused on managing data for the hybrid cloud, would drive the next phase of growth.
"Veeam created the VMware backup market and has dominated it as the leader for the last decade," said Timashev, who is also executive vice president for sales and marketing at the organisation. "This was Veeam's Act I and I am delighted that we have surpassed the $1 billion mark; in 2013 I predicted we'd achieve this in less than six years.
"However, the market is now changing. Backup is still critical, but customers are now building hybrid clouds with AWS, Azure, IBM and Google, and they need more than just backup. To succeed in this changing environment, Veeam has had to adapt. Veeam, with its 60,000-plus channel and service provider partners and the broadest ecosystem of technology partners, including Cisco, HPE, NetApp, Nutanix and Pure Storage, is best positioned to dominate the new cloud data management in our Act II."
In South Africa, Veeam expects similar growth. Speaking at the Cisco Connect conference in Sun City this week, country manager Kate Mollett told Gadget's BRYAN TURNER that the company was doing exceptionally well in this market.
"In financial year 2018, we saw double-digit growth, which was really very encouraging if you consider the state of the economy, and not so much customer sentiment, but customers have been more cautious with how they spend their money. We've seen a fluctuation in the currency, so we see customers pausing with big decisions and hoping for a recovery in the Rand-Dollar. But despite all of the negatives, we have double digit growth which is really good. We continue to grow our team and hire.
"From a Veeam perspective, last year we were responsible for Veeam Africa South, which consisted of South Africa, SADC countries, and the Indian Ocean Islands. We've now been given the responsibility for the whole of Africa. This is really fantastic because we are now able to drive a single strategy for Africa from South Africa."
Veeam has been the leading provider of backup, recovery and replication solutions for more than a decade, and is growing rapidly at a time when other players in the backup market are struggling to innovate on demand.
"Backup is not sexy and they made a pretty successful company out of something that others seem to be screwing up," said Roy Illsley, Distinguished Analyst at Ovum, speaking in Miami after the VeeamOn conference. "Others have not invested much in new products and they don't solve key challenges that most organisations want solved. Theyre resting on their laurels and are stuck in the physical world of backup instead of embracing the cloud."
Illsley readily buys into the Veeam tagline. "It just works".
"They are very good at marketing but are also a good engineering comany that does produce the goods. Their big strength, that it just works, is a reliable feature they have built into their product portfolio."
Veeam said in statement from the event that, while it had initially focused on server virtualisation for VMware environments, in recent years it had expanded this core offering. It was now delivering integration with multiple hypervisors, physical servers and endpoints, along with public and software-as-a-service workloads, while partnering with leading cloud, storage, server, hyperconverged (HCI) and application vendors.
This week, it announced a new "with Veeam"program, which brings in enterprise storage and hyperconverged (HCI) vendors to provide customers with comprehensive secondary storage solutions that combine Veeam software with industry-leading infrastructure systems. Companies like ExaGrid and Nutanix have already announced partnerships.
Timashev said: "From day one, we have focused on partnerships to deliver customer value. Working with our storage and cloud partners, we are delivering choice, flexibility and value to customers of all sizes."
'Energy scavenging' funded
As the drive towards a 5G future gathers momentum, the University of Surrey's research into technology that could power countless internet enabled devices – including those needed for autonomous cars – has won over £1M from the Engineering and Physical Sciences Research Council (EPSRC) and industry partners.
Surrey's Advanced Technology Institute (ATI) has been working on triboelectric nanogenerators (TENG), an energy harvesting technology capable of 'scavenging' energy from movements such as human motion, machine vibration, wind and vehicle movements to power small electronic components.
TENG energy harvesting is based on a combination of electrostatic charging and electrostatic induction, providing high output, peak efficiency and low-cost solutions for small scale electronic devices. It's thought such devices will be vital for the smart sensors needed to enable driverless cars to work safely, wearable electronics, health sensors in 'smart hospitals' and robotics in 'smart factories.'
The ATI will be partnered on this development project with the Georgia Institute of Technology, QinetiQ, MAS Holdings, National Physical Laboratory, Soochow University and Jaguar Land Rover.
Professor Ravi Silva, Director of the ATI and the principal investigator of the TENG project, said: "TENG technology is ideal to power the next generation of electronic devices due to its small footprint and capacity to integrate into systems we use every day. Here at the ATI, we are constantly looking to develop such advanced technologies leading towards our quest to realise worldwide "free energy".
"TENGs are an ideal candidate to power the autonomous electronic systems for Internet of Things applications and wearable electronic devices. We believe this research grant will allow us to further the design of optimized energy harvesters."